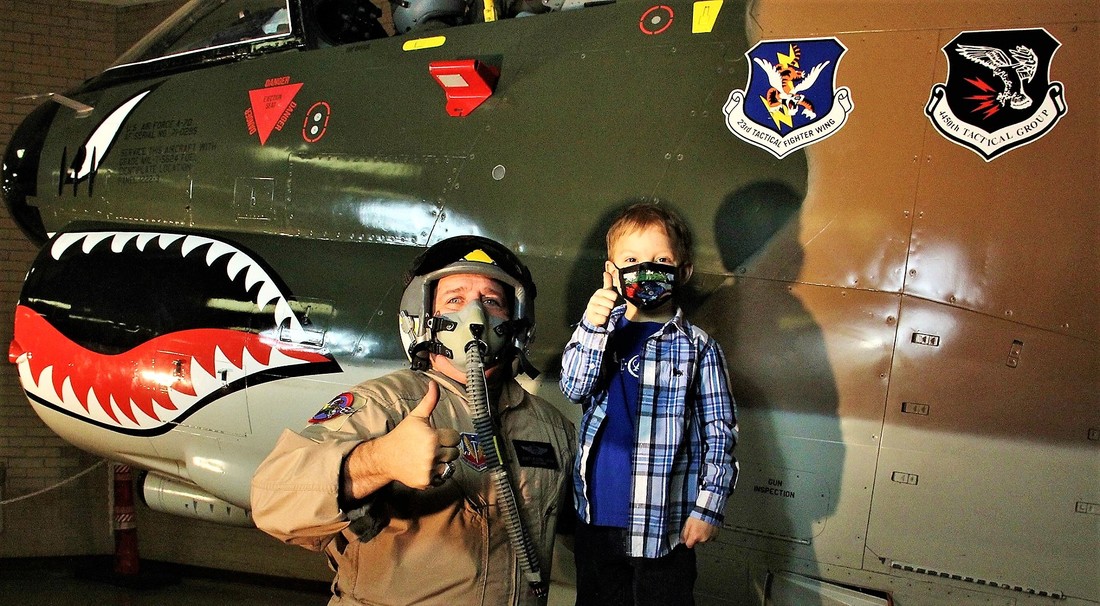 Mobile Aviation Museum platform,: Reaching visitors with Charitable FREE Days as well as Air Show and Event Attraction.
There is nothing like lifting the spirits of a child from 2 to 102. Our DreamBIG "
CrossHEIRs" Air Show and Community Appearance Program
brings the experience of sitting and Dreaming in a real fighter jet cockpit to children of all ages throughout the United States. From corporate events to private parties and public affairs, We also run FREE Days for children in hospitals, schools, and Children's homes. The service is free to the Community Giveback. A love of all things aviation has led us to create a fighter jet to share the thrill of flight with kids - young and old. The child in all of us wants to climb in and see what jet pilots - our real heroes - experience. For the visiting public, this short time away from reality can have a stunning impact on their spirits and, therefore creating long lasting memory of joy associated with the event sponsor. Most people do not travel to theme parks or other mind- and spirit-stimulating places.
CrossHEIRs
can let them "fly" wherever their imaginations take them simply by climbing into our cockpit and taking control of their destiny. When they land, the memory of the Dream will stay with them forever in the form of a custom-made flight suit with colorful squadron patches and even their own personalized name tag. Each visitor can be issued a replica flight suit (and, in some cases, a helmet as well) personalized for the child and branded by a sponsoring company.
CrossHEIRs
provides an uplifting experience to kids most in need of a boost in spirits. We leave them and their family renewed and rejuvenated. These events can be coordinated for any location across the country and provide both national and local media coverage for each sponsor. Events are scalable for ANY number of visitors with the addition of multiple cockpits. Children and other attendees can tour a small exhibit featured with each Mobile Museum to explore aviation history and learn the story of the our jet cockpit. Healthcare providers, drug companies, medical-related products, retailers, service providers and national consumer brands find sponsorship of this program an excellent public relations opportunity to integrate into their marketing plan.

At Events, we offer Photo memory opportunities. Creating a lasting memory of the in Cockpit Aviation and interactive experience. Each photo includes a custom memory photo sleeve. Each photo creates an illusion that he/she is the actual fighter pilot. Once again each visitor can dress as a real Fighter Pilot complete with flight suit or jacket and Flight helmet and harness.
DreamBIG "CrossHEIRs
"events can be coordinated with any "
SUPERSONIC Media"
program.


SUPERSONIC Media:
Mobile Aviation Platform that creates a lasting impression!

Outdoor (or as the industry calls it, "out of home") advertising is an ideal way to reach people in their daily routine. It is a medium that is everywhere and can be used effectively to get people's attention and create brand awareness where none existed before. It can reach larger audiences, and, as people spend longer periods away from home while traveling and commuting, it can be far more effective than TV, radio, print or traditional billboards. Our new, non-traditional methods engage an audience like no other media.

SUPERSONIC Media takes the target marketing capabilities of mobile billboards and adds an experience for consumers to achieve the ultimate viewer captivation. It is a new, non-traditional outdoor medium that has no competition. We can capture the consumer's attention and engage them one-on-one with an advertising message that has proven to provide a positive reaction. Our unique delivery of this message literally stops traffic and brings the local media swarming to cover this eye catching platform. The SUPERSONIC Media program features a trailer-mounted, fully-restored A-7D Corsair II and F-101/F-14 cockpits that draw the attention of the public wherever it travels. Imagine the cockpit of a fighter jet traveling down Main Street in "Any town", USA, stopping traffic. Much like mobile billboards, advertisers can brand the cockpit with signage or graphic wrap. Unlike traditional mobile billboards, SUPERSONIC Media creates a surprising and highly visible advertising space generating unprecedented publicity, therefore providing advertisers with an unparalleled opportunity that can be customized to their advertising requirements. In addition to on-the-road mobile advertising campaigns, the SUPERSONIC Media Mobile Museum cockpit can be hired for special appearances at large retailer mega store openings, air shows, theme parks, political campaigns, conventions and Armed Forces recruiting units, Birthday parties and private and or public celebrations. The types of events and locations for this program are almost limitless. Sponsors and advertisers can use the excitement of a traveling exhibit for product give-aways, celebrity appearances and other creative promotions.

We have several Mobile Museum platforms currently available for engagements. We can deliver an advertiser's message to the best locations in the Continental U.S.

Media Integration

The SUPERSONIC Media experience can be combined with other ad media - radio, TV and print - in ways that traditional outdoor advertising cannot. It is an alternative media experience that can be reinforced in any market with a combined media strategy. As a specialty outdoor media company, we will advise how SUPERSONIC Media can be leveraged with an advertiser's existing media campaign or we can help develop a campaign with SUPERSONIC Media at the center of a media strategy.

Aviation in general, and fighter jets in particular, fascinate people of any age. For hard-to-sell teens and young adults, SUPERSONIC Media fits their preference for multi-sensory and experiential messages. The philosophy behind SUPERSONIC Media resonates with all ages. The sense of community created around the appearance of an Authentic Fighter Jet Museum will engage both young adults and the baby-boomer generation. For boomers, the experience will evoke stories of history and heroes and, for some, personal memories.