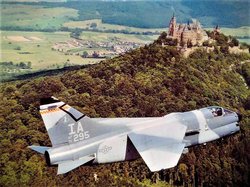 A-7D CORSAIR II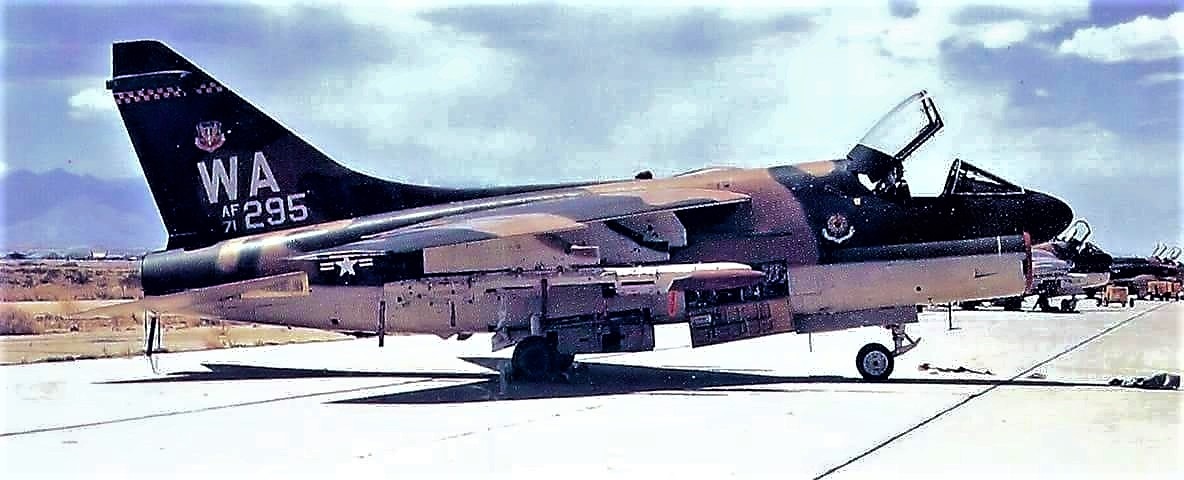 OUR BIRD: A-7D-10-CV s/n 71-0295
*USAF 4525th FWW.
*1973: USAF 57th FWW.
*USAF 23rd TFW.
*1984-88: USAF 4451st TS (4450th TG).
*1988-92: Iowa ANG 124th TFS (132nd TFG).
*9/1992: Put into storage at the AMARC bone yard.
*4/1997: Salvaged.
*Nose section was preserved at Ellington ANGB, TX.
*10/2010- Present: Nose Section is currently operated as a Mobile Aviation Museum by DreamBIG Entertainment. ICAS Member # 27075
HISTORY:
The
Ling-Temco-Vought A-7 Corsair II
was a carrier-capable subsonic light
attack aircraft
introduced to replace the
Douglas A-4 Skyhawk
. The A-7 airframe design was based on the successful
supersonic
Vought F-8 Crusader
. It was one of the first combat aircraft to feature a
head-up display
(HUD), an
inertial navigation system
(INS), and a
turbofan
engine.
The A-7D is the model which DreamBIG Entertainment owns. However, the A-7D has a storied History. The A-7D version was built for the USAF, with one
Allison TF41-A-1
turbofan, and a single 20 mm
M61 Vulcan
Gatling cannon; AN/APN-153 navigational radar in earlier models is replaced by AN/APN-185 navigational radar, AN/APQ-116 terrain following radar in earlier A-7B/C is replaced by AN/APQ-126 terrain following radar;
459
built.
The Corsair II initially entered service with the
United States Navy
during the
Vietnam War
. It was later adopted by the
United States Air Force
, including the
Air National Guard
, to replace the
Douglas A-1 Skyraider
,
North American F-100 Super Sabre
and
Republic F-105 Thunderchief
.[
citation needed
] The aircraft was also exported to
Greece
in the 1970s, and
Portugal
in the late 1980s.
Design and development:
In 1962, the
United States Navy
began preliminary work on
VAX
(Heavier-than-air, Attack, Experimental), a replacement for the A-4 Skyhawk with greater range and payload. A particular emphasis was placed on accurate delivery of weapons to reduce the cost per target. The requirements were finalized in 1963, announcing the
VAL
(Heavier-than-air, Attack, Light) competition. The first A-7 mock-up in 1964. To minimize costs, all proposals had to be based on existing designs.
Vought
,
Douglas Aircraft
,
Grumman
and
North American Aviation
responded. The Vought proposal was based on the successful
Vought F-8 Crusader
fighter, having a similar configuration, but shorter and more stubby, with a rounded nose. It was selected as the winner on 11 February 1964, and on 19 March the company received a contract for the initial batch of aircraft, designated
A-7
. In 1965, the aircraft received the popular name
Corsair II
, after Vought's highly successful
Vought F4U Corsair
of
World War II
Compared to the F-8 fighter, the A-7 had a shorter, broader fuselage. The wing had a longer span, and the unique variable incidence wing of the F-8 was omitted. To achieve the required range, the A-7 was powered by a
Pratt & Whitney TF30
-P-6
turbofan
producing 11,345 lbf (50.5 kN) of thrust, the same innovative combat turbofan produced for the
F-111
and early
F-14 Tomcats
, but without the afterburner needed for supersonic speeds.
VA-147
was the first operational U.S. Navy A-7 squadron, in 1967. The aircraft was fitted with an
AN/APQ-116
radar, later followed by the AN/APQ-126, which was integrated into the ILAAS digital navigation system. The radar also fed a digital weapons computer which made possible accurate delivery of bombs from a greater stand-off distance, greatly improving survivability compared with faster platforms such as the
McDonnell Douglas F-4 Phantom II
. It was the first U.S. aircraft to have a modern
head-up display
, (made by
Marconi
-
Elliott
), now a standard instrument which displayed information such as dive angle, airspeed, altitude, drift and aiming reticle. The integrated navigation system allowed for another innovation – the PAVE-PENNY projected map display system (PMDS) which accurately showed aircraft position on two different map scales which was released to the public 25 years later. Today it is known to the public as "GPS".
The A-7 had a fast and smooth development. The
YA-7A
made its first flight on 27 September 1965, and began to enter Navy squadron service late in 1966. The first Navy A-7 squadrons reached operational status on 1 February 1967, and began combat operations over
Vietnam
in December of that year. The A-7 offered a plethora of leading-edge avionics compared to contemporary aircraft. This included data link capabilities that, among other features, provided fully "hands-off" carrier landing capability when used in conjunction with its approach power compensator (APC) or auto throttle. Other notable and highly advanced equipment was a projected map display located just below the radar scope. The map display was slaved to the inertial navigation system and provided a high-resolution map image of the aircraft's position superimposed over TPC/JNC charts. Moreover, when slaved to the all-axis auto pilot, the inertial navigation system could fly the aircraft "hands off" to up to nine individual way points. Typical inertial drift was minimal for newly manufactured models and the inertial measurement system accepted fly over, radar, and TACAN updates.
United States Air Force A-7D
The
U.S. Army
was not permitted to operate fixed-wing combat aircraft, but it nevertheless required close support for its troops in the field in South Vietnam. To meet this need, the Army pressured the
United States Air Force
for a specialized subsonic close-support aircraft that would suit its needs better than the general-purpose supersonic aircraft that the USAF preferred. The Vought A-7 seemed to be a relatively quick and inexpensive way to satisfy this need. However, the USAF was initially reluctant to take on yet another Navy-designed aircraft, but Secretary of Defense
Robert McNamara
was insistent, and on 5 November 1965,
Secretary of the Air Force
Harold Brown
and USAF Chief of Staff General
John McDonnell
announced that they had decided to order a version of the Corsair II, designated A-7D, for the
Tactical Air Command
. The A-7D differed from the Navy's Corsair II in several ways. For one, the Air Force insisted on significantly more power for its Corsair II version, and they selected the Allison TF41-A-1 turbofan engine, which was a license-built version of the Rolls-Royce Spey. It offered a thrust of 14,500 pounds, over 2000 pounds greater than that of the TF30 that powered the Navy's Corsair IIs. Other changes included a heads-up display, a new avionics package, and an M61 rotary cannon in place of the two single-barreled 20-mm cannon. Also included was a computerized navigation/weapons delivery system with AN/APQ-126 radar and a heads-up display.
The A-7D first entered service with in 1970 with the
57th Fighter Weapons Wing
at Luke AFB Arizona, and with the
354th Tactical Fighter Wing
at
Myrtle Beach AFB
, South Carolina was equipped with four squadrons of A-7Ds by 1972; the 355th TFW at Davis-Monthan AFB was equipped with four squadrons in 1972, and in 1973, the 23d TFW at England AFB, Louisiana was fully equipped with A-7Ds. The 354th TFW first deployed two squadrons of A-7Ds to
Korat Royal Thai AFB
, Thailand in September 1972 as part of Operation Cornet Dancer, The A-7Ds were quickly assigned the "Sandy mission" of providing air cover for
Combat Search and Rescue
missions of downed pilots. Taking over for
Douglas A-1 Skyraiders
(and adopting their call sign of "Sandy"), the A-7's higher speed was somewhat detrimental for escorting the helicopters but the aircraft's high endurance and durability were an asset and it performed admirably. On 18 November 1972, Major Colin A. Clarke led a successful CSAR mission near
Thanh Hoa
to rescue a downed
F-105 Wild Weasel
crew. The mission lasted a total of 8.8 hours during which Clarke and his wingman took a number of hits from 0.51 cal (12.7 mm) anti-aircraft fire. For his actions in coordinating the rescue, Clarke was awarded the
Air Force Cross
, the USAF's second-highest decoration for valor, and his A-7D (AF Serial No. 70-0970) was eventually placed on display on 31 January 1992 at the
National Museum of the United States Air Force
at
Wright-Patterson AFB
, Ohio.
With the end of US involvement in South Vietnam, the 354th TFW (Deployed) at Korat began flying combat sorties in Cambodia to support the Lon Nol government in support of
Khmer National Armed Forces
against the
Khmer Rouge
. Rotational deployments began to Korat from the 355th TFW and 23d TFW, with pilots and support personnel beginning six-months deployment cycles. In March 1973, the 354th transferred a squadron of A-7Ds to the 388th TFW, the host wing at Korat RTAFB at the time, which re-established the
3d Tactical Fighter Squadron
and created a permanent USAF A-7D presence in Southeast Asia. A-7Ds from both wings stationed at Korat engaged in combat operations in Cambodia until 15 August 1973 when an A-7D of the deployed
353d TFS/354th TFW
carried out the last air support mission. In March 1974, the 354th TFW transferred several more aircraft to the 3d TFS prior to its return to Myrtle Beach AFB.
The USAF A-7D flew a total of 12,928 combat sorties during the war with only six losses– (the lowest of any U.S. fighter in the theater.) The aircraft was second only to
Boeing B-52 Stratofortress
in the amount of ordnance dropped on
Hanoi
and dropped more bombs per sortie with greater accuracy than any other U.S. attack aircraft.
Post-Vietnam era
Air National Guard:
With the pullout of the USAF from its Thailand bases in late 1975, the A-7Ds stationed at Korat initially went to
Clark AB
,
Philippines
. The 3d TFS transitioned from its Corsairs to the
McDonnell Douglas F-4E Phantom II
and remained at Clark. The A-7Ds were returned to the United States where they were reassigned to several
Air National Guard
squadrons.
With the end of the Vietnam War, the Air Force began to transfer its active-duty A-7D aircraft to
Air National Guard
units beginning in 1974. The Corsairs had been in a sense, a forced acquisition by the Air Force in the late 1960s, and the inter-service rivalry of flying a Navy plane had led, beginning about 1970, to the development of its own Close Air Support aircraft. In 1974, selection of the Republic
Fairchild Republic A-10 Thunderbolt II
was made as the replacement of the A-7D. The first A-10As were received by the 354th TFW in 1977 at Myrtle Beach AFB; the 355th TFW at Davis-Monthan AFB began replacing their A-7Ds in 1978, and the 23d TFW at England AFB in 1979. As the A-10s were received from Republic, the A-7Ds were transferred from the USAF to the
National Guard Bureau
for subsequent re-allocation. By 1981, when the 23d TFW sent their last A-7Ds to
Tonopah Test Range Airport
, Nevada for clandestine use in the
Lockheed F-117 Nighthawk
development program, fifteen ANG squadrons were equipped with the A-7D Corsair II. However, Congressional decisions added additional funding to the DOD FY 1975 and FY 1976 budgets for the procurement of additional A-7Ds, primarily to keep the LTV production line in Dallas open and the workers employed in the wake of post-Vietnam DOD procurement reductions. As a result of these unplanned acquisitions, the Air Force assigned these new 1975 and 1976 built aircraft, along with new twin seat A-7Ks trainers in 1979 directly to the Air National Guard.
During the post-Vietnam era, Tactical Air Command gained Air National Guard frequently deployed their Corsairs on annual operational exercises. Frequent deployments were made to
Howard AFB
, Panama to provide CAS training with Army units in the
Canal Zone
as part of
Operation Cornet Cove
. Other Air National Guard deployments were made to
NATO
and
USAFE
bases in West Germany and Denmark as part of Cornet Cove exercises along with the
USAREUR
Reforger training exercises. In 1989, while deployed in
Panama
for a Coronet Cove deployment,
Ohio Air National Guard
180th Tactical Fighter Group
A-7Ds were employed during
Operation Just Cause
Use in F-117 development:
The
4450th Tactical Group
stationed at
Nellis AFB
,
Nevada
had the distinction of being the last active USAF unit to operate the A-7 Corsair II. The mission of the 4450th TG was the operational development of the
Lockheed F-117 Nighthawk
, and the unit needed a surrogate aircraft for pilot training and practice. A-7Ds and A-7Ks were obtained from various active duty and air national guard squadrons and were assigned initially to the "(P)" or "Provisional" unit of the 4450th Tactical Group, redesignated the 4451st Tactical Squadron in January 1983.
The A-7s were used as a deception and training aircraft by the group between 1981 and 1989. It was selected because it demanded about the correct amount of pilot workload expected in the F-117A, was single seat, and many of the F-117A pilots had F-4 or F-111 backgrounds. A-7s were used for pilot training before any F-117As had been delivered to bring all pilots to a common flight training base line. Later, the A-7s were used to chase
F-117A tests and other weapon tests at the Nellis Range.
A-7 flight operations began in June 1981 concurrent with the very first YF-117A flights. The A-7s wore a unique "LV" tailcode (for Las Vegas) and had a dark purple/black paint motif. The A-7s were based officially at
Nellis Air Force Base
and were maintained by the 4450th Maintenance Squadron. In addition to providing an excuse for the 4450th's existence and activities, the A-7s were also used to maintain pilot currency, particularly in the early stages when very few production F-117As were available. The pilots learned to fly chase on F-117A test and training flights, perform practice covert deployments, and practice any other purpose that could not be accomplished using F-117As, given the tight restrictions imposed on all F-117A operations.
Some A-7s operated from the
Tonopah Test Range Airport
, about 30 miles (48 km) southeast of
Tonopah, Nevada
where the F-117s were being operationally tested. As a deception operation, care was taken to ensure that F-117As were never left parked outside aircraft hangars during daylight hours. However, A-7s were deliberately and routinely left outside hangars for the benefit of any orbiting Soviet
spy satellites
. Soviet intelligence agencies examining spy satellite imagery of the base would undoubtedly notice the A-7s parked on the Tonopah flight line, and would not be particularly interested. The intention of this deception was to convince the Soviets that Tonopah operated nothing more exciting than some A-7 Corsairs. There were approximately 20 A-7D aircraft used in developing the F-117, including several two-seat A-7K trainers. In January 1989, just three months after the USAF admitted the F-117A existed, the A-7s were retired to
AMARC
and were replaced by
AT-38B Talons
as training aircraft and the 4451st TS was deactivated.
**NOTE: The DreamBIG A-7D, SN# 71-0295 was one of the 20 A-7's used in the Development of the F-117Training and Retirement:
Pilots quipped that the Corsair "is not very fast, but it sure is slow." For
dissimilar air combat training
(DACT), and aerial demonstrations by the
Blue Angels
, the Navy would choose the more nimble
Douglas A-4 Skyhawk
as a subsonic maneuvering platform, as some considered the A-7 to be inadequate in air combat, even though it was highly maneuverable and was more fitting as a highly successful attack aircraft with a stable bombing platform. The Marine Corps would also pass on the Corsair, opting instead for the
V/STOL
vertical landing
AV-8 Harrier
as their light attack aircraft to replace their A-4F/M Skyhawks.
The Hellenic Air Force ordered 60 new A-7H aircraft in 1974 and three TA-7H's in 1980 and received 62 surplus A-7E/TA-7C from the USN after the Gulf War, 42 of which are still in use. The last squadron that uses the aircraft is the
336th
. The A-7 was going to be replaced by a 4.5 generation fighter jet, but due to budget cuts, it will be retired in 2017, without a replacement. The sale of A-7s to Pakistan was not approved due to U.S. opposition to its nuclear program.
F-16s
began replacing the
Air National Guard
Corsairs beginning in the late 1980s and the last were retired in 1993 by the ANG units at
Rickenbacker ANGB
,
Ohio
;
Des Moines International Airport
/ANGB,
Iowa
;
Tulsa International Airport
/ANGB,
Oklahoma
; and
Springfield-Beckley Municipal Airport
/ANGB, Ohio. Some of these surplus aircraft were passed to
Greece
,
Thailand
and
Portugal
; however by the end of 1998, with the exception of some airframes used as static displays, all U.S. A-7s were disposed of by the
AMARC
at
Davis-Monthan AFB
, Arizona.
General characteristics:Crew:
1
Length:
46 ft 2 in (14.06 m)

Wingspan:
38 ft 9 in (11.8 m)

Width:
23 ft 9 in (7.24 m) wings folded

Height:
16 ft 1 in (4.9 m)

Wing area:
374.9 sq ft (34.83 m2)
Airfoil
:
NACA 65A007
root and tip

Empty weight:
19,127 lb (8,676 kg)

Max takeoff weight:
42,000 lb (19.050 kg)

Fuel capacity:
1,338 US gal (5,060 l;
1,114 imp gal) (10,200 lb (4,600 kg)) internal

Powerplant:
1 ×
Allison TF41-A-2
non-afterburning turbofan
engine, 15,000 lbf (66.7 kN) thrust
Performance:
562 kn (1,041 km/h; 647 mph) at 5,000 ft
(1,524.0 m) with 12x
Mk82 bombs
595 kn (1,102 km/h; 685 mph) at 5,000 ft
(1,524.0 m) after dropping bombs
Range:
1,070 nmi; 1,231 mi (1,981 km) maximum internal
fuel

Ferry range:
1,342 nmi; 1,544 mi (2,485 km) with
maximum internal and external fuel

Wing loading:
77.4 lb/sq ft (378 kg/m²)
Thrust/weight
:
0.50
Sustained maneuvering performance: 5,300 ft (1,615.4 m)
turning radius at 4.3g and 500 kn (930 km/h; 580 mph) at an All
Up Weight (AUW) of 28,765 lb (13,048 kg)
Take-off run: 1,705 ft (519.7 m) at 42,000 lb
(19,000 kg)
Armament:
Guns: 1× 20 mm (0.787 in)
M61 Vulcan
6-barreled gatling cannon
with 1,030 rounds

Hardpoints: 6× under-wing and 2× fuselage pylon stations (for
mounting AIM-9 Sidewinder AAMs only) with a capacity of 15,000 lb
(6,803.9 kg) total capacity,with provisions to carry combinations of:

Rockets: 4×
LAU-10
rocket pods (each with 4× 127 mm
(5.000 in)
Mk 32 Zuni rockets
)

Missiles:

2×
AIM-9 Sidewinder
AAM

2×
AGM-45 Shrike
Anti-radiation
missile
(ARM)

2×
AGM-62 Walleye
TV-guided
Glide
bomb

2×
AGM-65 Maverick

2×
AGM-88
HARM

2×
GBU-8 HOBOS
electro-optically guided Glide
bomb

Bombs:

Up to 30× 500 lb (226.8 kg)
Mark 82 bombs
or
Mark 80 series
of
unguided bombs
(including 6.6 lb (3 kg)
and 31 lb (14 kg) practice bombs)
Paveway
series of
laser-guided bombs

Up to 4×
B28 nuclear bomb
/
B57 nuclear bomb
/
B61 nuclear bombs
MORE Planes Currently in Restoration:


F-101 VOODOO (F-14 Tomcat "TOPGUN" Tribute)
The McDonnell F-101 Voodoo was a
supersonic
jet fighter
which served the
United States Air Force
(USAF) and the
Royal Canadian Air Force
(RCAF).
Initially designed by
McDonnell Aircraft
as a long-range
bomber escort
(known as a
penetration fighter
) for the
Strategic Air Command
(SAC), the Voodoo was instead developed as a nuclear-armed
fighter-bomber
for the
Tactical Air Command
(TAC), and as a
photo reconnaissance aircraft
based on the same airframe. An F-101A set a number of world speed records for jet powered aircraft, including fastest airspeed, attaining 1,207.6 miles (1,943.4 km) per hour on December 12, 1957. They operated in the reconnaissance role until 1979.
Delays in the
1954 interceptor
project led to demands for an interim
interceptor aircraft
design, a role that was eventually won by the B model of the Voodoo. This required extensive modifications to add a large radar to the nose of the aircraft, a second crewmember to operate it, and a new weapons bay using a rotating door that kept its four
AIM-4 Falcon
missiles or two
AIR-2 Genie
rockets hidden within the airframe until it was time to be fired. The F-101B entered service with
Air Defense Command
in 1959 and the
Royal Canadian Air Force
in 1961. US examples were handed off to the
Air National Guard
where they served until 1982. Canadian examples remained in service until 1984.
Background:
The Voodoo's career as a fighter-bomber was relatively brief, but the reconnaissance versions served for some time. Along with the US Air Force's
Lockheed U-2
and US Navy's
Vought RF-8 Crusaders
, the RF-101 reconnaissance variant of the Voodoo was instrumental during the
Cuban Missile Crisis
and saw extensive service during the
Vietnam War
.
[4]
Interceptor versions served with the Air National Guard until 1982, and in Canadian service they were a front line part of
NORAD
until their replacement with the
CF-18 Hornet
in the 1980s.
While the Voodoo was a moderate success, it may have been more important as an evolutionary step towards its replacement in most roles, the
F-4 Phantom II
, one of the most successful Western fighter designs of the 1960s. The Phantom would retain the twin engines, twin crew for interception duties, and a tail mounted well above and behind the jet exhaust but was an evolution of the
F3H Demon
while the Voodoo was developed from the earlier
XF-88 Voodoo
.
Design and development Initial design on what would eventually become the Voodoo began just after
World War II
in response to a USAAF Penetration Fighter Competition in 1946. This called for a long-range, high-performance fighter to escort a new generation of bombers, much as the
North American P-51 Mustang
had escorted the
Boeing B-17 Flying Fortresses
and
Consolidated B-24 Liberators
in World War II. Several companies responded with designs, and the Air Force provided funds for several of them to produce prototypes.
After being awarded a contract (AC-14582) on 14 February 1947,
McDonnell
built two prototypes, designated the XF-88 Voodoo. The first prototype (serial number
46-6525
), powered by two 3,000 lbf (13.3 kN)
Westinghouse XJ34-WE-13
turbojets, flew from
Muroc
on 20 October 1948. Preliminary testing revealed that while handling and range was adequate, the top speed was a disappointing 641 mph (1,032 km/h) at sea level. After fitting McDonnell-designed afterburners to the second prototype, thrust was increased to 3,600 lbf (16.1 kN) with corresponding performance increases in top speed, initial rate of climb and reduced takeoff distance. Fuel consumption was greatly increased by use of the afterburners, however, reducing the range.
Although the XF-88 won the "fly-off" competition against the competing
Lockheed XF-90
and
North American YF-93
, the
detonation of the first nuclear weapon
by the
Soviet Union
resulted in the USAF (created in 1947) re-evaluating its fighter needs, with interceptors being more important and bomber escorts being of reduced priority, and it terminated the Penetration Fighter program in 1950. Analysis of
Korean war
missions, however, revealed that contemporary USAF strategic bombers were vulnerable to fighter interception. In 1951, the USAF issued a new requirement for a bomber escort with all major US manufacturers submitting designs. The McDonnell design was a larger and higher powered version of the XF-88, and won the bid in May 1951. The F-88 was redesignated the F-101 Voodoo in November 1951.
Design changes for new engines. The new design was considerably larger, carrying three times the initial fuel load and designed around larger, more powerful
Pratt & Whitney J57
turbojets. The greater dimensions of the J57 engines required modifications to the engine bays, and modification to the intakes to allow a larger amount of airflow to the engine. The new intake also was designed to be more efficient at higher Mach numbers. In order to increase aerodynamic efficiency, reduce structural weight and alleviate
pitch-up
phenomena recently identified in flight testing of the
Douglas D-558-2 Skyrocket
, an aircraft with a control surface configuration similar to the XF-88, the horizontal tail was relocated to the top of the vertical stabilizer, giving the F-101 its signature "T-tail". In late 1952, the mission of the F-101 was changed from "penetration fighter" to "strategic fighter", which entailed equal emphasis on both the bomber escort mission and on nuclear weapons delivery. The new Voodoo mock-up with the reconfigured inlets, tail surfaces, landing gear, and dummy nuclear weapon was inspected by Air Force officials in March 1953. The design was approved, and an initial order for 29 F-101As was placed on 28 May 1953, no prototypes being required as the F-101 was considered a simple development of the XF-88, with the
Cook-Cragie
production policy, in which initial low-rate production would be used for testing without the use of separate prototypes, chosen instead.
F-101B / CF-101B / EF-101B
A two-seat McDonnell F-101B Voodoo of the
Oregon Air National Guard
CF-101 Voodoo 101060 from
409 "Nighthawk" Squadron
,
CFB Comox
on the ramp at
CFB Moose Jaw
in spring 1982.In the late 1940s, the Air Force had started a research project into future
interceptor aircraft
that eventually settled on an advanced specification known as the
1954 interceptor
. Contracts for this specification eventually resulted in the selection of the
F-102 Delta Dagger
, but by 1952 it was becoming clear that none of the parts of the specification other than the airframe would be ready by 1954; the engines, weapons and fire control systems were all going to take too long to get into service. An effort was then started to quickly produce an interim supersonic design to replace the various subsonic interceptors then in service, and the F-101 airframe was selected as a starting point.
Although McDonnell proposed the designation F-109 for the new aircraft (which was to be a substantial departure from the basic Voodoo), the USAF assigned the designation F-101B. It was first deployed into service on January 5, 1959, with the
60th Fighter-Interceptor Squadron
.
[36]
The production ended in March 1961. The Voodoo featured a modified cockpit to carry a crew of two, with a larger and more rounded forward fuselage to hold the
Hughes
MG-13 fire control
radar
of the F-102. It had a data link to the
Semi-Automatic Ground Environment
(SAGE) system, allowing ground controllers to steer the aircraft towards its targets by making adjustments through the plane's autopilot. The F-101B had more powerful Pratt & Whitney J57-P-55 engines, making it the only Voodoo not using the -13 engines. The new engines featured a substantially longer afterburner than J57-P-13s. To avoid a major redesign, the extended afterburners were simply allowed to extend out of the fuselage by almost 8 ft (2.4 m). The more powerful engines and aerodynamic refinements allowed an increased speed of Mach 1.85.
The F-101B was stripped of the four
M39 cannons
and carried four
AIM-4 Falcon
air-to-air missiles
instead, arranged two apiece on a rotating pallet in the fuselage weapons bay. The initial load was two GAR-1 (AIM-4A)
semi-active radar homing
and two GAR-2 (AIM-4B)
infrared-guided
weapons with one of each carried on each side of the rotating pallet. After the first two missiles were fired, the door turned over to expose the second pair. Standard practice was to fire the weapons in SARH/IR pairs to increase the likelihood of a hit. Late-production models had provision for two 1.7-kiloton MB-1/
AIR-2 Genie
nuclear
rockets
on one side of the pallet with IR-guided GAR-2A (AIM-4C) on the other side. "Project Kitty Car" upgraded most earlier F-101Bs to this standard beginning in 1961.
The AIM-4 Falcon side of the F-101B missile door. From 1963–
66
, F-101Bs were upgraded under the Interceptor Improvement Program (IIP; also known as "Project Bold Journey"), with a fire control system enhancement against hostile
ECM
and an
infrared sighting and tracking
(IRST) system in the nose in place of the
in-flight refueling
probe.
The F-101B was made in greater numbers than the F-101A and C, with a total of 479 being delivered by the end of production in 1961. Most of these were delivered to the
Air Defense Command
(ADC) beginning in January 1959. The only foreign customer for the F-101B was
Canada
. For more details on the history of the Voodoo in Canada, see
McDonnell CF-101 Voodoo
.
The F-101B was withdrawn from ADC service from 1969 to 1972, with many surviving USAF aircraft transferred to the Air National Guard (replacing F-102s), serving until 1982. The last Voodoo in US service (F-101B-105-MC, AF Ser. No.
58-300
) was finally retired by the
2nd Fighter Weapons Squadron
at
Tyndall AFB
, Florida on 21 September 1982.
TF-101B / F-101F / CF-101FSome of the F-101Bs were completed as dual-control operational
trainer
aircraft initially dubbed TF-101B, but later redesignated F-101F. Seventy-nine new-build F-101Fs were manufactured, and 152 more existing aircraft were later modified with dual controls. Ten of these were supplied to Canada under the designation CF-101F. These were later replaced with 10 updated aircraft in 1971.
The prototype RF-101B (s/n 57-0301).RF-101BIn the early 1970s, a batch of 22 former Royal Canadian CF-101Bs were returned to the US Air Force and converted to RF-101B
reconnaissance
aircraft with their radar and weapons bay replaced with a set of three KS-87B cameras and two AXQ-2 TV cameras. An
in-flight refueling
boom receptacle was also fitted. These aircraft served with the
192d Tactical Reconnaissance Squadron
of the
Nevada Air National Guard
through 1975. They were expensive to operate and maintain and had a short service life.
Variants
RF-101C-55-MC (56-0220), assigned to 18th TRS, 460th TRW. This aircraft was shot down by a
SAM
over North Vietnam on 7 March 1966, killing the pilot.
Section source:
Angelucci and Bowers 1987, pp. 309–10.
F-101A
initial production fighter bomber, 77 produced.
NF-101A
one F-101A used by
General Electric
for testing of the
General Electric J79
engine.
YRF-101A
two F-101As built as prototype reconnaissance models.
RF-101A
first reconnaissance version, 35 built.
F-101B
two-seat interceptor, the most numerous version with 479 built (including CF-101B)
CF-101B
112 F-101Bs transferred to
Royal Canadian Air Force
.
RF-101B
22 former RCAF CF-101Bs modified for reconnaissance use.
TF-101B
dual-control trainer version of F-101B, redesignated F-101F, 79 built.
EF-101B
single F-101B converted for use as a radar target and leased to Canada.
NF-101B
F-101B prototype based on the F-101A airframe; the second prototype was built with a different nose.
F-101C
improved fighter-bomber, 47 built.
RF-101C
reconnaissance version of F-101C airframe, 166 built.
F-101D
proposed version with
General Electric J79
engines, not built.
F-101E
another J79 proposal, not built.
F-101F
dual-control trainer version of F-101B; 79 re-designated TF-101Bs plus 152 converted F-101B.
CF-101F
Canadian designation for 20 TF-101B/F-101F dual-control aircraft.
TF-101F
24 dual-control versions of F-101B, re-designated F-101F (these are included in the -F total).
RF-101G
29 F-101As converted for ANG reconnaissance.
RF-101H
32 F-101Cs converted for reconnaissance use.
Specifications (F-101B)
Line drawings for the F-101B.
Data from
The Great Book of Fighters
General characteristics
Crew: 2
Length: 67 ft 5 in (20.55 m)
Wingspan: 39 ft 8 in (12.09 m)
Height: 18 ft 0 in (5.49 m)
Wing area: 368 ft² (34.20 m²)
Airfoil: NACA 65A007 mod root, 65A006 mod tip
Empty weight: 28,495 lb (12,925 kg)
Loaded weight: 45,665 lb (20,715 kg)
Max. takeoff weight: 52,400 lb (23,770 kg)
Internal fuel capacity: 2,053 gal (7,771 l) or 2,953 gal (11,178 l) with two external tanks
Powerplant: 2 × Pratt & Whitney J57-P-55 afterburning turbojets

Dry thrust: 11,990 lbf (53.3 kN) each
Thrust with afterburner: 16,900 lbf (75.2 kN) each
Performance
Maximum speed: Mach 1.72 (1,134 mph, 1,825 km/h) at 35,000 ft (10,500 m)
Range: 1,520 mi (1,320 nm, 2,450 km)
Service ceiling: 58,400 ft (17,800 m)
Rate of climb: 49,200 ft/min (250 m/s)
Wing loading: 124 lb/ft² (607 kg/m²)
Thrust/weight: 0.74
Armament
note: Falcon missile variants - AIM-4A, AIM-4B, AIM-4C only. The range was about 5 mi (8 km).
Avionics
Hughes MG-13 fire control system
F-14 TOMCAT Information:
The Grumman F-14 Tomcat is an American
supersonic
,
twin-engine
, two-seat,
variable-sweep wing
fighter aircraft
. The Tomcat was developed for the
United States Navy
's Naval Fighter Experimental (VFX) program after the collapse of the
F-111B
project. The F-14 was the first of the American
teen-series
fighters, which were designed incorporating
air combat
experience against
MiG
fighters during the
Vietnam War
.
The F-14 first flew in December 1970 and made its first deployment in 1974 with the U.S. Navy aboard
USS Enterprise (CVN-65)
, replacing the
McDonnell Douglas F-4 Phantom II
. The F-14 served as the U.S. Navy's primary maritime
air superiority fighter
, fleet defense
interceptor
, and tactical
aerial reconnaissance
platform into the 1990s. The Low Altitude Navigation and Targeting Infrared for Night (
LANTIRN
) pod system was added in the 1990s and the Tomcat began performing precision ground-attack missions.
In the 1980s F-14s were used as land-based interceptors by the
Islamic Republic of Iran Air Force
during the
Iran–Iraq War
, where they saw combat against Iraqi warplanes. Iranian F-14s reportedly shot down at least 160 Iraqi aircraft during the war, while only 12 to 16 Tomcats were lost; at least half of these losses were due to accidents.
The Tomcat was retired from the U.S. Navy's active fleet on 22 September 2006, having been supplanted by the
Boeing F/A-18E/F Super Hornet
. The F-14 remains in service with the
Islamic Republic of Iran Air Force
, having been
exported to Iran
in 1976.
General characteristics
Performance
Armament
Avionics: